Your Local Specialists For Flat Roofing in Shrewsbury
Dryfix Telford Ltd, working in the Shrewsbury area, is here to provide you with a cost-effective flat roofing solution which utilises modern techniques to protect your roof from the elements. Flat roofing is renowned for its affordability and suitability to a number of applications, including:
Porches
Extensions
Small buildings
Garages
Warehouses
Hospitals
Torch on felt roof, GRP and rubber
And many more

Rubber Flat Roofing in Shrewsbury
Rubber roofing provides several advantages, and it can be a very good investment for homeowners who hold low-sloping roofs.
Not least among the features of rubber roofing is that the material offers better protection against the elements preventing leaks and stopping water and rainfall entering into the home.
GRP Flat Roofing in Shrewsbury
Some of the first fibreglass roofs installed over 30 years ago continue to show no signs of weakening. GRP gets lighter over time, is resistant to UV radiation and also has fire resistant properties not found in other materials used for flat roofing in Shrewsbury . GRP is designed to be capable of any building movement through expansion and/or contraction.
Made on site using polyester resin, glass fibre and rollers. GRP truly is a standout material for flat roofs. This product is groundbreaking and has completely transformed the flat roofing industry in terms of the materials used to seal and protect roof coverings all over the UK.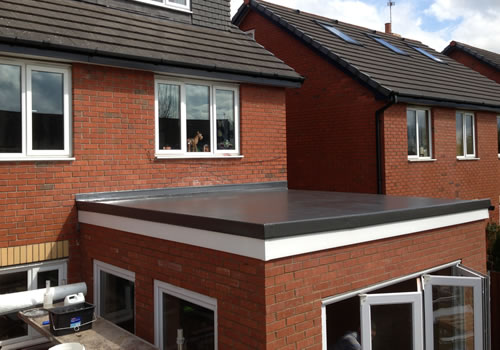 Maintenance & Repairs to Flat Roofs in Shrewsbury
The managing and maintenance of flat roofs is simple – Regular maintenance checks are crucial. Because most traditionally flat roofing felts have a life span of approximately twenty-five years, an annual maintenance check will pick-up any small concerns before they become big problems. Impact from debris in high winds can impact flat roofs no matter their age, likewise if you have a felt flat roof you'll want to keep an eye on wind lift. By having everything routinely checked, you can stop the problem before it develops.
Get in touch for your flat roofing Installation
Our team of fully qualified roofing contractors have years of experience installing all kinds of flat roofing in Shrewsbury , from traditional felt to EPDM and GRP materials, so whatever type of flat roof your considering, contact the professional roofers at Dryfix Telford Ltd today, we'll help you determine the best material for your roof and provide a competitive, no obligation quotation for the installation.
Dryfix Telford Ltd
14 Myddle Wood
Myddle
Shrewsbury
SY4 3RY
01952 984223