Approved Local Roofer in Shrewsbury – Dryfix Telford
Experienced Roofer in Shrewsbury offering Roofing Repairs, Rubber Roofing, GRP Roofing, traditional slate and tile and emergency callouts. The dedication to the provision of excellent results, as well as excellent service, has furnished us with an enviable reputation in Shrewsbury and surrounding areas..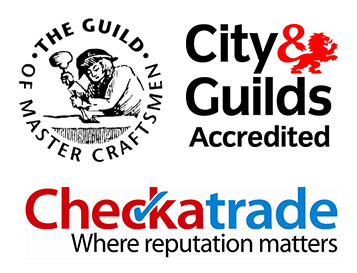 Our reputation has grown from overwhelmingly positive word-of-mouth recommendations made by previous customers who use us time and again when they require any roofing services locally.
We will take on any size of job, from a small roof repair to a complete roof replacement including pitching up of flat roofs, Velux windows and uPVC roof line replacement. We also provide a slate and tile replacement service.
So if you're interested in securing the services of a long-established, thoroughly professional team of Shrewsbury roofers for repair, slate replacement, flat or pitched roofing or guttering in Shrewsbury, don't delay; get in contact with our friendly team today!
Our Roofing Services
Our fully trained, highly experienced and trusted team of roofers in Shrewsbury are fully capable of undertaking all aspects of roofing including:
Some of the first fibreglass roofs installed over 30 years ago continue to show no signs of weakening. GRP gets lighter over time, is resistant to UV radiation and also has fire resistant properties not found in other materials used for flat roofing in Shrewsbury . GRP is designed to be capable of any building movement through expansion and/or contraction.
Made on site using polyester resin, glass fibre and rollers. GRP truly is a standout material for flat roofs. This product is groundbreaking and has completely transformed the flat roofing industry in terms of the materials used to seal and protect roof coverings all over the UK.
Rubber roofing in Shrewsbury has several advantages and is a proven investment for houses with low sloping roolines. Not least among the features of this type of roofing is that it offers better protection, reduce leaks and stop water entering and damaging parts of the home.
Helped by the fact that rubber is lightweight compared with other roofing materials the installation process for rubber roofing is uncomplicated and relatively straightforward. Another advantage when it comes to investing in rubber roofing is that it doesn't require special tools. Flat rubber roofs in particular are comparatively simple to install.
Slate roofing is a watertight feature of any property. But as soon as one of the tightly locking slates becomes damaged or broken, it can quickly become an issue. If you have a problem or suspect a problem with your slate roof, contact our team for a free survey.
We're specialists when it comes to slate roofing and have over half a century of experience in the roofing industry. This means our slate roofers have the skills to complete roofing of the highest standard on both domestic and commercial properties – from minor repair work to designing and constructing new slate roofs our team have the skillset to do it all. We can also provide services if required.
The lightweight yet tough properties of built-up felt ensure that it can be adapted to almost any flat roof design, from submerged roofs to inverted and warm roofs. Sufficiently built-up felt systems are also compatible with every modern insulant and even eco-friendly wool and straw based systems. They're also designed so that they can move with your building, ensuring cracks are bridged without the waterproofing being affected.
A good built-up felt roof should last for up to 30 years, provided the right steps are taken, with bituminous felt roofing being sealed, before chippings and a mineral cap is placed upon it.
No more rotten and insect infested rooflines !
Are you planning to replace wooden rooflines with more modern uPVC fascias and soffits in Shrewsbury? At Dryfix Telford, we supply and install a variety of these rooflines in a variety of styles and colours. While wooden rooflines can be traditional, modern replacements offer a maintenance free, long lasting alternative.
We use Freefoam products, which have a 20 year manufacturers guarantee, and for additional peace of mind, Dryfix Telford will guarantee our new UPvc fascia and soffit installations for 10 years.
Dryfix Telford have been supplying and fitting high quality guttering in Shrewsbury for many years and have built up a fantastic reputation throughout Shropshire. As you know it is really important that your premises has a good quality guttering system in place, as it helps to protect your buildings foundation by channelling water away from its base. By using our guttering services in Shrewsbury you can rest assured that your home will remain leak and damp proof for years to come.
If you own a historic home you know how tasking and demanding maintenance on the roof can be. This is because over the years the roofing materials have changed in structure, design, make and even weight. This means that the roofing structure used back then might not work on new shingles or other roofing options that you choose to use. If you have a historical home and need another roof, you need a roof that will maintain the historic integrity of the house. Here is a guide on installing the right roof for your historic home.
We are als qualified and experienced to carry out the construction of an extension. Our proprietor has over 30 years of experience in the roofing industry, meaning you can rely on us to carry out all aspects of roofing to the highest standards.
If you have used any other roofer in Shrewsbury in the past, you will be able to distinguish our superior standard of workmanship and value for money service. Insurance-backed guarantees are provided on all re-roofing work for your peace of mind and you can rely on us to offer you friendly, non-biased advice which is tailored to your individual requirements.
Dryfix Telford Ltd
14 Myddle Wood
Myddle
Shrewsbury
SY4 3RY
01952 984223
Contact Dryfix Telford

When your roof requires remedial work or your home is in need of a whole new roofing system, The roofing team at Dryfix Telford is on call to offer unparalleled expertise and craftsmanship for very competitive prices, from slate and tile roofs to modern techniques such as GRP and EPDM rubber we offer a specialist solution to your roofing problems with comprehensive insurance backed guarantees and we cover all areas in Shrewsbury & surrounding.