The Pros and Cons of Rubber Roofing in Shrewsbury
Rubber roofing in Shrewsbury has several advantages and is a proven investment for houses with low sloping roolines.
Not least among the features of this type of roofing is that it offers better protection, reduce leaks and stop water entering and damaging parts of the home.
Helped by the fact that rubber is lightweight compared with other roofing materials the installation process for rubber roofing is uncomplicated and relatively straightforward.
Another advantage when it comes to investing in rubber roofing is that it doesn't require special tools. Flat rubber roofs in particular are comparatively simple to install.

Durable And Aesthetically Pleasing Roofing
With rubber roofing in Shrewsbury there are few seams, which makes it more water-resistant than is the case with numerous other types of roofing material. Rubber roofs, despite being quite lightweight rubber roofs offer durability not found with other types of flat roof, they have a good aesthetic appeal too – significantly when rubber shingles are in place on a sloped roof. Both the durability and the aesthetic appeal can considerably increase the value of your property.
Rubber roofing is resistant to temperature extremes – Freezing cold or boiling hot a rubber roof won't crack under temperature extremes. It's also not a combustible material, because it's not easy to burn. A typical rubber roof can be expected to last from between 30 and 50 years.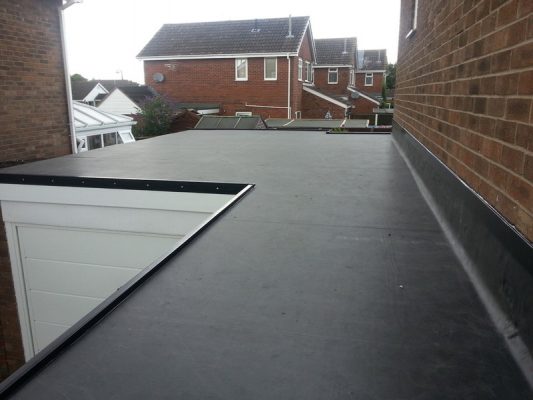 Energy Efficient And Environmentally Friendly
Whilst the initial investment for a rubber roof is quite high they do pay back in time through energy efficiency. A white or lightly coloured rubber roof will conserve energy even more.
A rubber roof is produced with recycled materials, so rubber roofing is also environmentally friendly – and it will last twice as long as most other sorts of roofing materials.
Contact Severnside For Rubber Roofing in Shrewsbury
Dryfix Telford Ltd have over 20 years' experience in the installation and repair of all roofing types, including rubber roofing in Shrewsbury. Our expert team of qualified roofers are on hand 7 days a week to answer any questions and offer free quotations for rubber roofing installations in Shrewsbury and surrounding
Dryfix Telford Ltd
14 Myddle Wood
Myddle
Shrewsbury
SY4 3RY
07397 554 832