A Trustled Roofline Service For Downpipes & Guttering in Shrewsbury
Do you need a professional Shrewsbury based guttering service? Severnside Roofing & Building Specialists have been supplying and fitting high quality guttering in Shrewsbury for many years and have built up a fantastic reputation throughout Shropshire. As you know it is really important that your premises has a good quality guttering system in place, as it helps to protect your buildings foundation by channelling water away from its base. By using our guttering services in Shrewsbury you can rest assured that your home will remain leak and damp proof for years to come.

When to replace your gutters and downpipes
You may want to replace your existing guttering system because it is damaged or you simply want a new modern system to improve the look of your home. However their are many signs you can look out for, which show that your existing guttering system is not working and needs replacing such as:
If you see water pouring out of the joints or the dropout.
Their are numerous holes or cracks in the gutters.
Gaps that have formed between gutter connections.
If they no longer hang level.
They are looking old and you want new better looking ones.
Remember your gutters and downpipe are a very important function for your home. A new set will keep the water away from your house.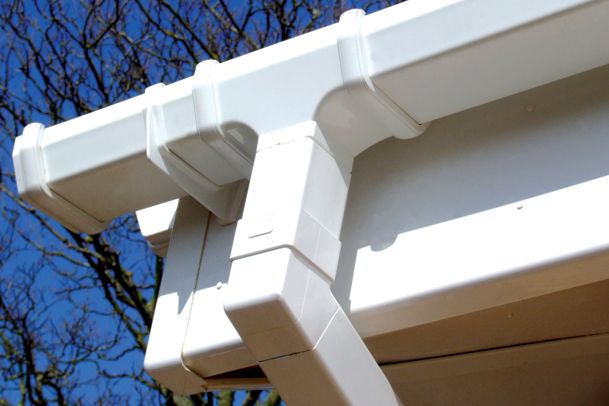 Gutter Materials
Severnside Roofing & Building Specialists offer a wide variety gutters made from materials such as copper, steel and PVC. Which one you choose is a matter of preference, however most people choose PVC as it requires less maintenance, is cost effective, highly durable and can withstand the typical Shrewsbury weather.
Guttering for Shrewsbury based home owners and businesses
Severnside Roofing & Building Specialists cover the whole of Shropshire, and our professional roofers live locally and are on hand to deal with any guttering repairs or replacements. We supply all types of gutters, so whatever your requirements are you can rest assured that Severnside Roofing & Building Specialists have the knowledge and experience to complete the job to your satisfaction.
We pride ourselves on:
Over 20 years roofing experience
Fully Qualified roofing experts, all which receive ongoing training
Free estimates for all Shrewsbury customers
Unbeatably competitive prices
Contact Severnside Roofing & Building Specialists
If you are interested in new guttering in Shrewsbury or surrounding areas, please contact our team without delay and we'll arrange for one of our team to come out and provide you with a free estimate and some professional advice on your gutters and downpipes.